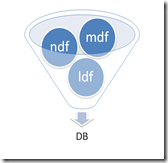 You might have missed this information (we did :( ) but when running your SharePoint 2010 farm on SQL Server 2008 Enterprise (or 2008 R2), the Web Analytics reporting database uses the table partitioning feature provided in SQL Server.
For large-scale environments, we recommend that you run the Web Analytics service application Reporting database on a server that is running SQL Server 2008 Enterprise Edition so that the Web Analytics service application can take advantage of table partitioning.

           

         From: Databases Types and Descriptions (http://technet.microsoft.com/en-us/library/cc678868.aspx)
What this means is that your reporting databases will span one additional "NDF" file (and file group, named with the Aggregation DATE suffix) every week as illustrated below:
We realized this while trying to setup the logshipping of this base (which is supported according to this page by the way).
Hope it helps !